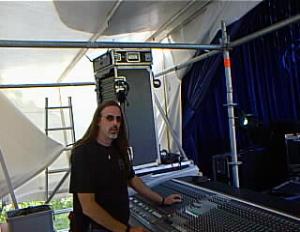 My name is Chris Bray. I am the owner of Tour Support Services, LLC.  In the interest of exploring employment opportunities in the concert touring industry, I have posted my touring resume and company contact information for your review located at the bottom of the page. Thank you in advance for your time in viewing my website.
I have been fortunate through out my career to have worked closely with a number of musical artists that have contributed songs that shaped generations, both with recordings as well as live performances. One such long term client is John Kay & Steppenwolf.
For the last twenty-eight years, I have been a part of the administrative and/or production crew for John Kay's operations based in Nashville, Tennessee. My management skills include tour and production management, as well as managing recording studio operations. I am currently the band's production manager and am responsible for the touring aspects of the live show, i.e. show advance, backline equipment, transportation, and crew. I hold a Tennessee Class "B" drivers license. Additionally during the show, I am the band's monitor audio engineer and the keyboard technician.
In 1992,  construction and wiring of John Kay's recording studio kept my soldering iron hot. In 2002, the studio was revamped to support 5.1 surround sound applications. Throughout those years, I was a second engineer on a number of projects for Mr. Kay and other band members, as well as serving as the studio maintenance engineer. I also was the mobile recording engineer on the 1994 summer tour recording "Live @ 25" which was released in 1995 as a double CD box set.
In 2005, I started Tour Support Services, LLC.  The company objective is to provide quality musical equipment, transportation and production services to touring performing artists and be a professional backline vendor in the concert industry.
Other notable clients include: